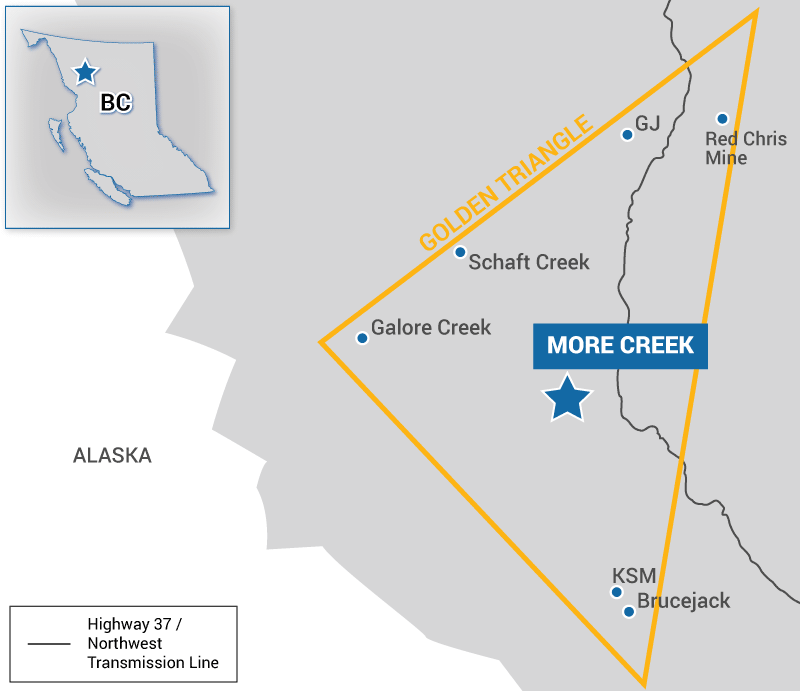 Target
Epithermal gold and silver mineralization
Property Status
The More Creek property comprises five mineral tenures totalling 6,430 hectares in the Golden Triangle District of northwest British Columbia. The property was acquire by staking and Tower controls 100% interest.
Location
More Creek is 120 kilometres north of Stewart, BC and benefits from close proximity to significant infrastructure such as the Northwest Transmission Line, a nearby fixed-wing aircraft runway and Highway 37, all of which are approximately 10 kilometers to the east of the property.
More Creek is approximately 55 kilometers north of Pretium Resources' significant Brucejack development project which contains a Measured and Indicated mineral resource of 9.1 million ounces of gold at an average grade of 17.2 grams per tonne gold (source, Pretium's July 21st, 2016 Press Release).
Geology and Historic Exploration
Previous work at More Creek was focused on a prominent mountain and ridge top gossan known as the Sinter zone. Geological mapping and geochemical sampling (rock, soil, and stream silts) by Noranda and Corona in the early 1990s and reconnaissance mapping by Barrick Gold and Teck Resources in the 2000's at Sinter outlined an extensive zone, up to 2 kilometers long, of strong silicification, argillic alteration and hydrothermal brecciation associated with a regional fault cutting through Upper Triassic Stuhini Group volcanic and siliciclastic rocks. This zone is characterized by highly anomalous (in rocks, soils and silts) concentrations of epithermal-gold pathfinder elements such as Hg, As and Sb. Furthermore, a creek draining the Sinter zone also contains highly anomalous concentrations of gold (up to 1.4g/t Au) in pan concentrates in stream sediments as noted by Noranda and Corona (BC Assessment Reports 19216 and 21311). Together, these historic data suggests the Sinter zone may represent the upper, barren zone of an epithermal gold system and gold mineralization should be targeted vertically below the outcropping alteration zone. This exploration model has not yet been tested by systematic diamond drilling.
2016 Exploration
Exploration by Tower in 2016 consisted of the collection of rock-chip samples at the Sinter Zone and stream sediment samples in the creeks draining the Sinter and Logan Ridge zones (see Tower's December 6, 2016 press release). Highly anomalous gold grain and indicator mineral counts in stream sediments coupled with elevated pathfinder elements in rock-chip samples, and epithermal textures identified in outcrop were considered significant and warranted systematic follow-up.
Three stream sediment samples were collected: MC-SS-001 from a tributary creek below the Sinter Zone, the main historic showing on the property (see Tower's August 16, 2016 Press Release); MC-SS-002, from a creek draining a part of the catchment basin that includes the Logan Ridge Zone, another historic showing; and MC-SS-003, downstream of both MC-SS-001 and -002, near the main creek mouth where historic operators sampled highly anomalous gold in stream sediments. The entire catchment area sampled by MC-SS-003 comprises less than 14 square kilometres and is less than 8 kilometres long, indicating a very constrained area for the gold source(s). Samples were processed by Overburden Drilling Management (ODM), of Ottawa, Ontario.
A total of 41 grains of gold were picked from MC-SS-002, and 38 from MC-SS-003. Based on the coarse and well-sorted gold grain population in sample 002, ODM interprets the original gold grain population may have been many times larger, and is underrepresented in this lag deposit.
The sediment sample from a creek draining the Sinter Zone (MC-SS-001) contained no gold grains, but approximately 100 grains of cinnabar. Cinnabar (mercury sulfide) is a common mineral in epithermal systems, especially at high levels as mercury is easily transported in a vapour phase. Samples MC-SS-002 and -003 also contained approximately 20 grains of cinnabar each, suggesting a related source.

Rock samples were also collected by Tower geologists from the Sinter Zone, especially where glacial recession has exposed abundant new outcrop. Mercury was highly elevated in all samples, along with elevated values of other pathfinder elements. These results are consistent with the interpretation of the Sinter Zone representing the highest levels of a mineralized epithermal system. Strong alteration, pyrite vein stockwork, hydrothermal brecciation, and textures indicative of fluid boiling and gas escape were observed. During the brief program, Tower geologists were able to investigate less than 10% of the four kilometre long northwest striking alteration zone.
2017 Exploration
The 2017 program is designed to investigate the source of the gold sampled in the preliminary stream sediment survey and to develop a stronger geological and structural model for the property. Property-wide geological mapping, prospecting, and geochemical soil, rock and stream sediment sampling program will be undertaken.
Cautionary Statements
The technical contents of this website were reviewed by Christopher Leslie, M.Sc., P.Geo., VP Exploration and a Qualified Person as defined by National Instrument 43-101. The information provided in this website is provided solely for general knowledge purposes and may contain data historical in nature which has been compiled from sources believed to be accurate. The historical technical information has not been verified by Tower and may in some instances be unverifiable dependent on the existence of historical drill core, trench and grab samples. This website is not intended to be a comprehensive review of all matters and developments concerning the Company and the Company assumes no responsibility for its completeness, accuracy and currency. Although information used in this website is believed to be accurate as at the date hereof, it may not be accurate when read. The Company does not undertake to update any of the information provided in this website. For current information please refer to the Company's filings on SEDAR (www.sedar.com) or contact the Company