Vancouver, British Columbia--(Newsfile Corp. - March 30, 2023) - Tower Resources Ltd. (TSXV: TWR) ("Tower" or the "Company") is pleased to announce that the first assays have been received from its new Thunder Zone (see press release from March 1, 2023) on the Company's Rabbit North property near Kamloops, British Columbia, between New Gold's New Afton underground Cu-Au mine and Teck's Highland Valley open pit Cu-Mo mine (see Fig. 1), with a 25.7 m section in discovery hole No. RN23-039 returning 2.04 g/t Au.
Hole 039 (Discovery Hole)
Hole 039 intersected two gold zones (see Fig. 2), a 3.0 m upper zone from 142.7 m down-hole grading 4.02 g/t Au and the targeted Thunder zone starting 17.8 m further down-hole, at 163.5 m, grading 2.04 g/t Au over 25.7 m. The Thunder Zone is split by a barren, 3-m-wide, post-mineralization mafic dyke. The 15.6 m mineralized interval below the dyke includes a higher grade section averaging 3.79 g/t Au over 7.8 metres.
The 2.04 g/t grade of the Thunder Zone is significantly higher than the ~1.5 g/t average grade of the Lightning Zone. The Thunder Zone also appears to have much greater continuity, both along strike and to depth, and is less disturbed and thus more easily followed by drilling. It has already been traced 200 m along strike from Hole 39 to Holes 41 and 42 at depths between 100 and 400 m below surface (see press release from March 1, 2023) and remains wide open across substantial widths in all three directions (northwest, southeast and to depth).
Stu Averill, P.Geo. and a director of the Company, commented: "The Thunder Zone is building as expected, with the indicated gold grade double that of most open pit gold mines in B.C. And its relatively undisturbed condition and previously indicated continuity both along strike and to depth make the Thunder Zone more predictable and drill-friendly than the Lightning Zone. Together these features should allow us to build a significant gold resource more quickly."
The surface footprint of the Thunder Zone may also be larger than suggested by the relatively small size of the gold grain dispersal train (Central Train) emanating from the top of the zone (see Fig. 2) because cover flows of Chilcotin basalt that would have completely sheltered the gold mineralization from glacial erosion were intersected at the tops of Holes 41 and 42, over 300 m south of their previously mapped limit. As well, the Au grade of the thick pre-glacial supergene zone that is preserved beneath the basalt may be enhanced significantly relative to the primary Au grade of the deeper, unweathered part of the gold zone.
Hole 040
Hole 040 was drilled 50 m northeast of and parallel to Hole 039. Tower previously reported that Hole 040 did not intersect the Thunder Zone (see press release from March 1, 2023) because most of interval that contains the favourable (shear-susceptible) ash tuff in Hole 039 is occupied in Hole 040 by a wide dyke of shear-resistant Durand diorite. Immediately below the dyke, however, Hole 40 intersected a 7.65 m mineralized zone containing 1.42 g/t Au. This intersection is located east of the Hole 39 intersection (see Fig. 2) suggesting that the Thunder Zone may be linked to the Lightning Zone 400 m further east as well as extending southeast through Holes 40 and 41.
Hole 041 Assays Pending
Tower expects to report the Hole 41 assays next. As mentioned in the Company's March 01 press release, Holes 41 and 42 intersected mineralization of both the pre-orogenic (~215 Ma) porphyry Cu-Au type with significant chalcopyrite and the orogenic (~149 Ma) shear-hosted type with pyrite alone.
Methods and Qualified Person
The drill core was logged at Tower's leased, fully equipped core facility near Kamloops by Matthew Husslage, BSc. Geology, and Lauren Vollo, BSc. Geology. Both have extensive experience with B.C. gold and copper deposits and Mr. Husslage has managed or co-managed all of Tower's Rabbit North diamond drilling programs since the discovery of the Lightning Zone in December, 2021.
Split samples of the core, generally 1-2 m in length, were delivered directly to Activation Laboratories (ActLabs) in Kamloops, BC, a laboratory certified as ISO/IEC 17025 Accredited (Lab 790) by the Standards Council of Canada. QA/QC samples including blanks and standards were inserted regularly into the sample sequence at a ratio of approximately 1:20.
The samples were analyzed for Au by fire assay and ICP-OES and for Ag and 36 additional elements by ICP-OES using a four-acid, near-total digestion. Any over-limit (>5 g/t) Au analyses were repeated using the same fire assay procedure but with a gravimetric rather than ICP finish.
The technical content of this news release has been reviewed and approved by Stuart Averill, P.Geo., a Director of the Company, and a Qualified Person as defined by National Instrument 43-101.
About Tower Resources
Tower is a Canadian based mineral exploration company focused on the discovery and advancement of economic mineral projects in the Americas. The Company's key exploration assets, both in B.C., are the Rabbit North copper-gold porphyry project located between the New Afton copper-gold and Highland Valley copper mines in the Kamloops mining district and the Nechako gold-silver project near Artemis' Blackwater project.
On behalf of the Board of Directors
Tower Resources Ltd.
Joe Dhami, President and CEO
(778) 996-4730
www.towerresources.ca
Reader Advisory
This news release may contain statements which constitute "forward-looking information", including statements regarding the plans, intentions, beliefs and current expectations of the Company, its directors, or its officers with respect to the future business activities of the Company. The words "may", "would", "could", "will", "intend", "plan", "anticipate", "believe", "estimate", "expect" and similar expressions, as they relate to the Company, or its management, are intended to identify such forward-looking statements. Investors are cautioned that any such forward-looking statements are not guarantees of future business activities and involve risks and uncertainties, and that the Company's future business activities may differ materially from those in the forward-looking statements as a result of various factors, including, but not limited to, fluctuations in market prices, successes of the operations of the Company, continued availability of capital and financing and general economic, market or business conditions. There can be no assurances that such information will prove accurate and, therefore, readers are advised to rely on their own evaluation of such uncertainties. The Company does not assume any obligation to update any forward-looking information except as required under the applicable securities laws.
Neither TSX Venture Exchange nor its Regulation Services Provider (as that term is defined in policies of the TSX Venture Exchange) accepts responsibility for the adequacy or accuracy of this release.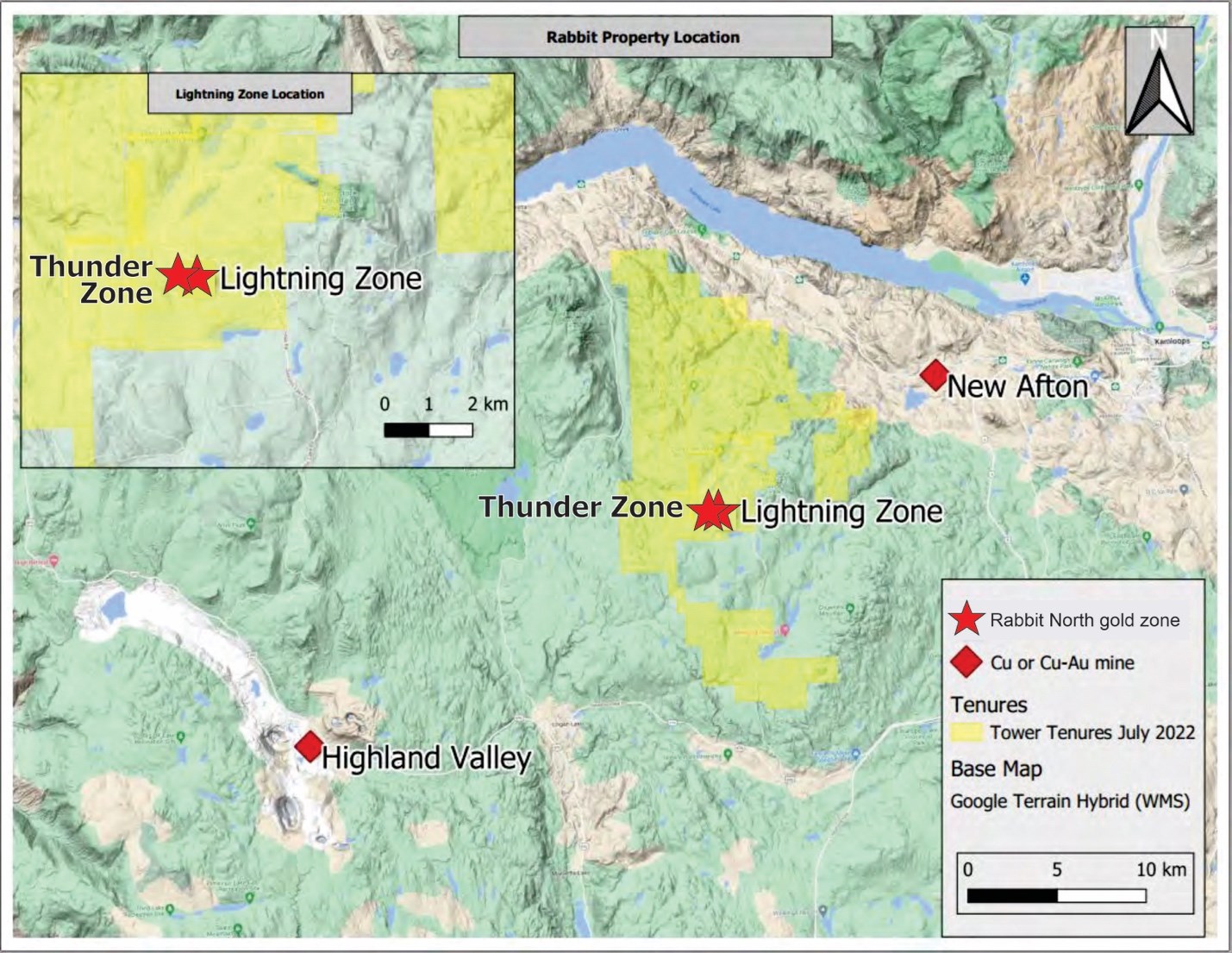 Figure 1 - Location of Tower's Rabbit North property relative to the active mines of the Kamloops district.
To view an enhanced version of this graphic, please visit:
https://images.newsfilecorp.com/files/5023/160534_7f11ed8024b73876_002full.jpg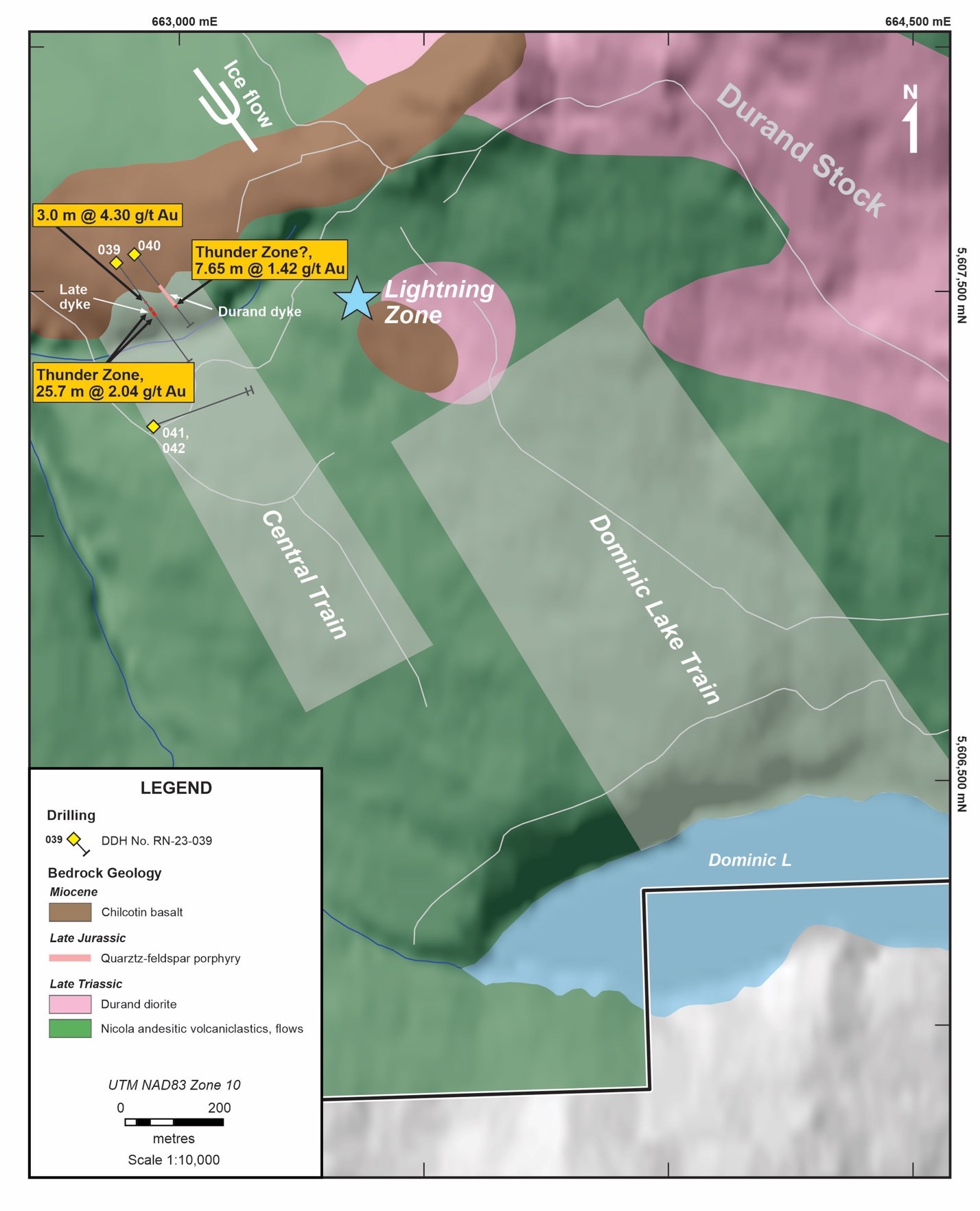 Figure 2 - Locations of the four exploratory diamond drill holes and new Thunder Zone relative to the Central gold grain dispersal train. Chilcotin basalt cover flows were intersected in all four drill holes and thus may overlie part of the mineralized zone.
To view an enhanced version of this graphic, please visit:
https://images.newsfilecorp.com/files/5023/160534_7f11ed8024b73876_003full.jpg
To view the source version of this press release, please visit https://www.newsfilecorp.com/release/160534