Vancouver, British Columbia--(Newsfile Corp. - February 2, 2023) - Tower Resources Ltd. (TSXV: TWR) ("Tower" or the "Company") is pleased to announce that it expects to resume diamond drilling early next week on the Company's Rabbit North property near Kamloops, British Columbia, between New Gold's New Afton underground Cu-Au mine and Teck's Highland Valley open pit Cu-Mo mine (see Fig. 1). Approximately 2000 m of drilling are planned - double the size of the campaigns completed last year following the discovery in December, 2021, of the Lightning Gold Zone (95 m of 1.40 g/t Au including 19.2 m of 4.42 g/t Au; see Tower's January 11, 2022 press release at www.towerresources.ca).
Program Objectives
Tower plans to test three key targets (see Fig. 2) in the expanded drilling program:
The head of the Central Train, where the large size of the glacially dispersed gold grains in the till suggests a bedrock source grade approximately three times higher than that of the Lightning Zone at the head of the Dominic Lake Train. Most of the gold source appears to be covered by a band of young basalt flows, with only a short segment at the head of the Central Train exposed to glaciation. The indicated gold trend may extend 700 m east-northeast beneath these flows to a historical drill hole, No. 2004-02, that was drilled vertically and intersected 74 m of 0.58 g/t Au under the basalt.
The Lightning Zone, mainly to determine its shape in three dimensions to guide deeper drill holes.
The southern contact of the diorite plug, opposite the Lightning Zone, to determine whether the main source of the Dominic Lake Train is located here. To confirm this expectation, additional till samples will be collected along the southern contact with an excavator while the first hole on Target 1 is being drilled, and will be processed immediately to determine their gold grain content.
The Company recently obtained a permit for 26 new drill sites and 13 till excavation sites. The drill core will be logged and sampled at Tower's leased, fully equipped core facility near Kamloops under the supervision of Matthew Husslage, P.Geo. The till samples will be collected by Michael D.J. Michaud, P.Geo., of Overburden Drilling Management Limited.
Qualified Person
The technical content of this news release has been reviewed and approved by Stuart Averill, P.Geo., a Director of the Company, and a Qualified Person as defined by National Instrument 43-101.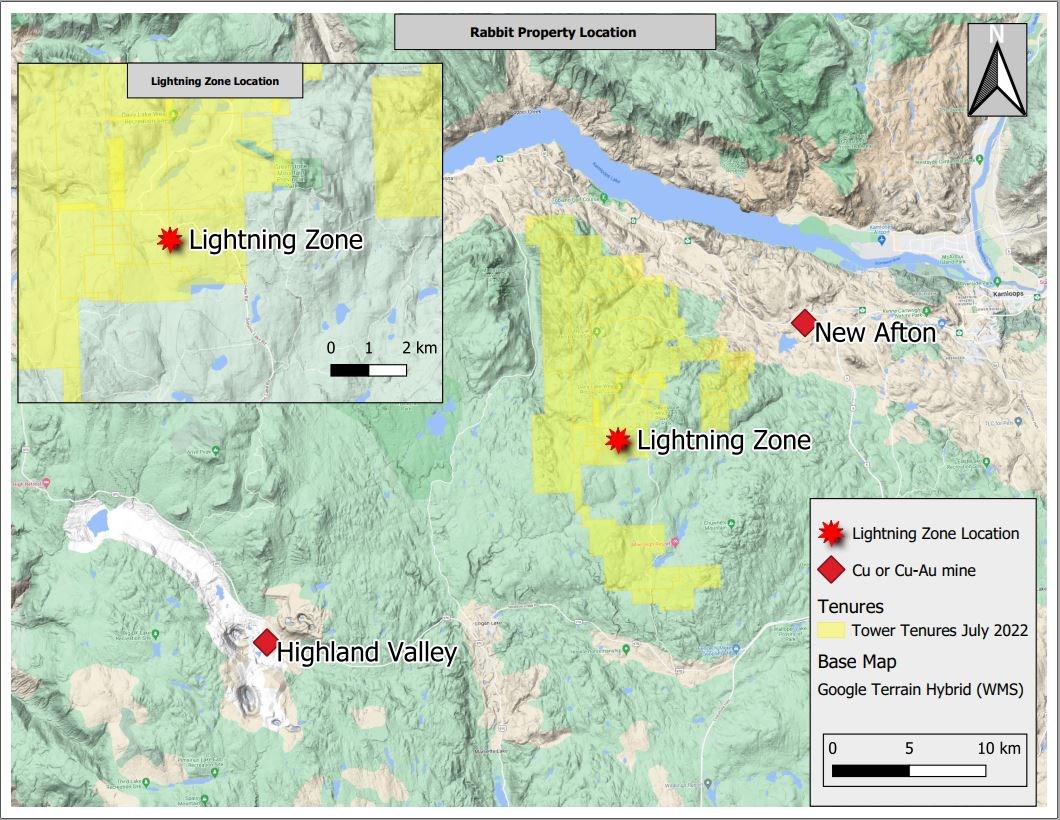 Figure 1 - Location of Tower's Rabbit North property relative to the active mines of the Kamloops district.

To view an enhanced version of this graphic, please visit:
https://images.newsfilecorp.com/files/5023/153249_40c83800b49868c6_002full.jpg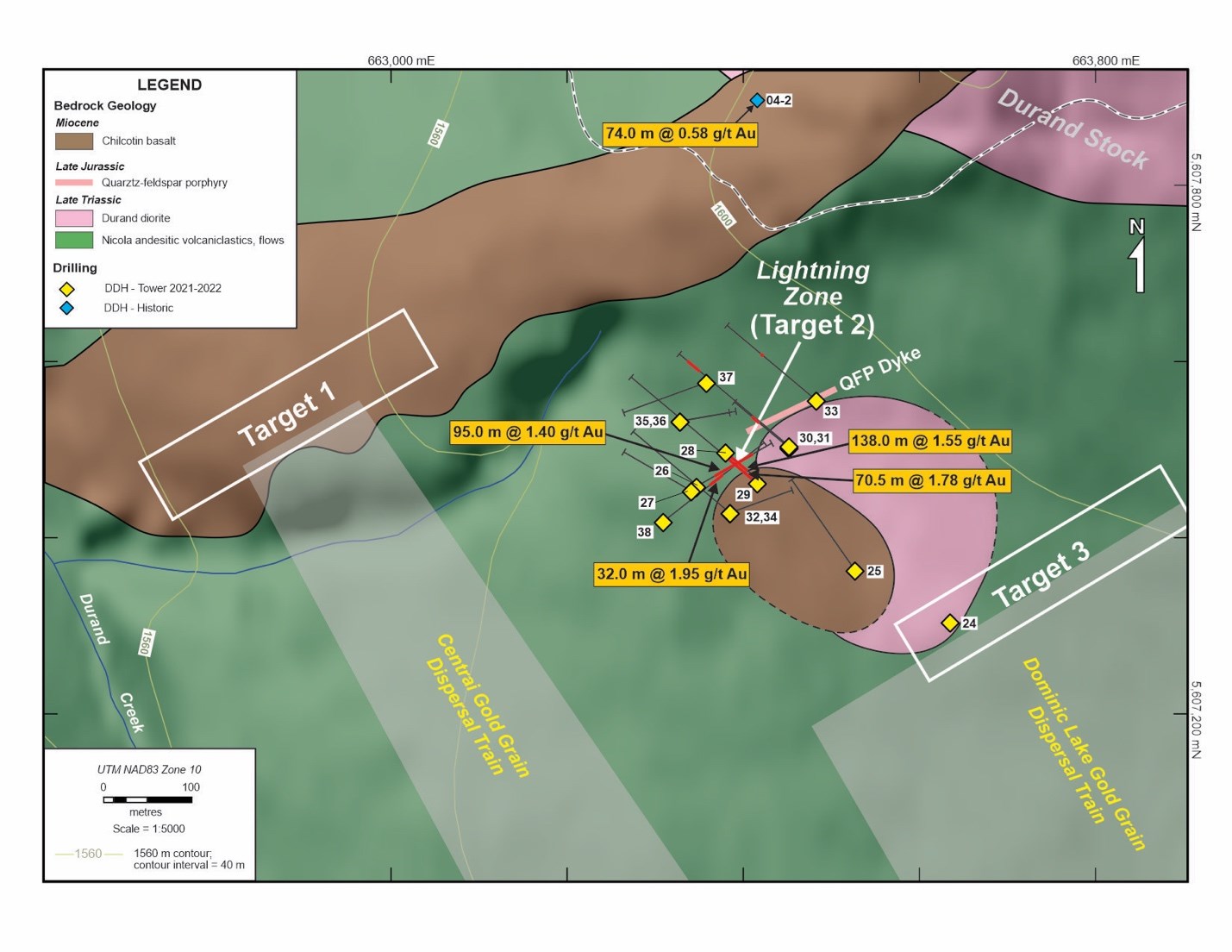 Figure 2 - Planned drill targets in relation to the geology of the mostly till-covered bedrock surface.

To view an enhanced version of this graphic, please visit:
https://images.newsfilecorp.com/files/5023/153249_40c83800b49868c6_003full.jpg
Finder's Warrants Clarification
In connection with the non-brokered flow-through private placement that closed December 23, 2022, the Company would like to clarify it issued 233,333 finder warrants, there was a typo in the press release dated December 23, 2022 stating 23,333 finder warrants were issued instead of the correct 233,333 (see Tower's December 23, 2022 press release at www.towerresources.ca).
About Tower Resources
Tower is a Canadian based mineral exploration company focused on the discovery and advancement of economic mineral projects in the Americas. The Company's key exploration assets, both in B.C., are the Rabbit North copper-gold porphyry project located between the New Afton copper-gold and Highland Valley copper mines in the Kamloops mining district and the Nechako gold-silver project near Artemis' Blackwater project.
On behalf of the Board of Directors
Tower Resources Ltd.
Joe Dhami, President and CEO
(778) 996-4730
www.towerresources.ca
Reader Advisory
This news release may contain statements which constitute "forward-looking information", including statements regarding the plans, intentions, beliefs and current expectations of the Company, its directors, or its officers with respect to the future business activities of the Company. The words "may", "would", "could", "will", "intend", "plan", "anticipate", "believe", "estimate", "expect" and similar expressions, as they relate to the Company, or its management, are intended to identify such forward-looking statements. Investors are cautioned that any such forward-looking statements are not guarantees of future business activities and involve risks and uncertainties, and that the Company's future business activities may differ materially from those in the forward-looking statements as a result of various factors, including, but not limited to, fluctuations in market prices, successes of the operations of the Company, continued availability of capital and financing and general economic, market or business conditions. There can be no assurances that such information will prove accurate and, therefore, readers are advised to rely on their own evaluation of such uncertainties. The Company does not assume any obligation to update any forward-looking information except as required under the applicable securities laws.
To view the source version of this press release, please visit https://www.newsfilecorp.com/release/153249