Vancouver, B.C. - Tower Resources Ltd. (TSX.V: TWR) is pleased to announce results from its systematic glacial till survey on the Nechako Gold property in central British Columbia. Thirty-nine ~10 kg samples were collected in October 2016 by Overburden Drilling Management Limited (ODM) of Ottawa, Ontario. Of the 39 samples, 33 define a prominent gold grain anomaly at least 3.5 kilometres long by 2 kilometres wide-larger than the gold dispersal train from the Blackwater deposit. As at Blackwater, this dispersal train is defined by high gold grain counts (up to 268 grains per sample), abundant associated garnet (up to 5000 grains per sample), and high gold concentrations in the silt fraction of the till (up to 120 ppb per sample).
President and CEO Mark Vanry states, "The amount of gold recovered in the 2016 glacial till survey at Nechako Gold is extraordinary. To obtain gold grain counts similar to those at the Blackwater deposit, over a large area and in this early reconnaissance survey, is extremely encouraging. Moreover, data indicates the gold source(s) may be centrally located on the property."

The road accessible Nechako Gold Property (see Tower's July 12 and July 19, 2016 news releases) is approximately 30 kilometres northeast of New Gold Inc.'s Blackwater development project. Blackwater contains a proven and probable total mineral reserve of 8.2 million ounces of gold with 60.8 million ounces of silver (source: New Gold Inc. website). The centre of the property is approximately 80 kilometres south of Vanderhoof, BC.

The "background" gold concentration, defined by samples from the northwest portion of the survey area, is up to 10 gold grains per sample, same as at Blackwater. Significantly, the rest of the till samples in the survey are anomalous in gold. This gold grain anomaly covers most of the property, with gold grain counts from 11 to 268 grains per sample.

The gold source is currently unexplained-known showings on the Nechako Gold property do not align with most of the dispersal train along paleo-ice direction-but the source is likely on the Nechako Gold property for several reasons: 1) many samples show a high percentage of pristine gold grains, unmodified by glacial transport; 2) the gold grain anomaly does not dissipate in a down-ice direction as expected from a distal source; and 3) the source area is limited by the presence of a large, post-mineralization pluton immediately up-ice from the property. Multiple gold sources are possible, given the size of the anomaly; the gold source(s) would not have been identified previously due to lack of outcrop and common post-glacial outwash deposits on the property.

Tower plans to complete further till sampling in 2017, as well as an induced polarity geophysical survey. These exploration activities are expected to produce and refine drill targets on the property.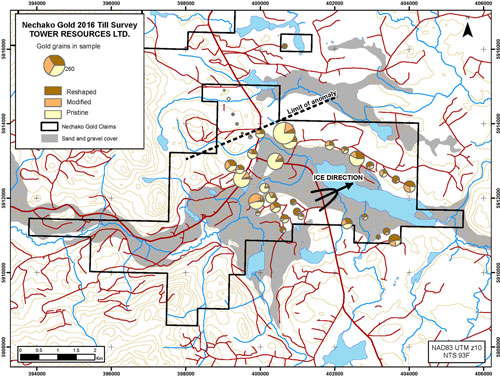 Program Details
The exploration program consisted of 48 till samples systematically collected down-ice and coincident with two interpreted Blackwater-type epithermal gold targets: Chutanli (39 samples) and Stubb (9 samples). During glaciation, erosion of gold-bearing bedrock and its transport in a "down-ice" direction forms dispersal anomalies or "trains" of gold-bearing glacial till deposits; these trains lead back, in the direction of ice flow, to the mineralized source. (In the area of the Nechako Gold property, ice direction was east-northeast.) The Chutanli and Stubb targets were defined on the basis of regional and property-scale geophysical data, regional till and property-scale boulder geochemical data, and geological data collected in 2016 by Tower's technical team. Tower contracted Overburden Drilling Management Ltd. (ODM) of Ottawa, Ontario to complete the survey. ODM is highly regarded as a global leader in heavy mineral geochemistry and indicator mineral exploration, which are considered critical tools for exploration in areas masked by glacial till, such as the majority of the Nechako Plateau. The ODM team previously completed detailed studies at the Blackwater project and have demonstrated that their sampling techniques and proprietary heavy mineral separation processes are successful at defining down-ice heavy mineral dispersion trains unique to Blackwater-type deposits.

Till samples (weighing approximately 10kg each) were collected by ODM at approximately 500m intervals perpendicular to ice direction, except where glaciofluvial and alluvial deposits (e.g. sands and gravels) overlie the glacial till. These areas present a challenge for exploration, as they are derived from distal locations and are unsuitable for tracing gold to its bedrock source. Samples were processed at ODM's laboratory in Ottawa, Ontario (see Analytical Procedures below) and gold grains were measured and categorized as "pristine", "modified", or "reshaped". With greater transport distance gold grains become reshaped; the high proportion of pristine grains in the Nechako Gold samples suggests a nearby gold source in bedrock. The table concentrates were then further concentrated to specific gravity >3.2 and the refined concentrates were searched visually for grains of key indicator minerals that are commonly associated with the alteration zones of gold and porphyry copper deposits.

The nine sample reconnaissance till survey conducted on the Stubb claim (see July 19, 2016 press release) recovered background counts of gold.

Analytical Procedures

Samples were received and processed at ODM's laboratory in Ottawa, Ontario. Representative 500g splits were taken from each bulk sample, for geochemical analysis. The remainder of each sample was wet-screened at 2.0mm, to prepare a -2.0mm table concentrate. Gold grains (generally silt sized) were sampled from the table concentrate by micropanning. Grains were measured and classified for shape (i.e. degree of wear, as a proxy for transport). The -0.063 mm silt and clay fraction of the 500 g split was analyzed geochemically for gold and arsenic by INA and for silver and base metals by ICP/AES using an aqua regia leach.

About Tower Resources

Tower Resources Ltd. (TWR.V) is a Vancouver-based junior mineral exploration company focused on the discovery and advancement of economic mineral projects, primarily in British Columbia. The company's key exploration assets are Rabbit North, Nechako Gold and More Creek.

Some technical information contained in this release is historical in nature and has been compiled from sources believed to be accurate. This technical information has not been verified by Tower and may in some instances be unverifiable dependent on the existence of all historical grab and trench samples and drill core. Management also cautions that mineral resources on nearby properties are not necessarily indicative of the results that may be achieved on the subject property.

Overburden Drilling Management Ltd. was founded in 1974 by Mr. Stuart Averill, who currently serves as ODM's Chairman. Mr. Averill is also on the Board of Directors for Tower Resources Ltd.

The technical content of this news release has been reviewed and approved by Nils Peterson, M.Sc., P.Geo., Chief Geologist for the company and qualified person as defined by National Instrument 43-101.

For further information contact:
Mark Vanry - Director, CEO & President
(604) 558-2565
This email address is being protected from spambots. You need JavaScript enabled to view it.
www.towerresources.ca

Neither the TSX Venture Exchange nor the Investment Industry Regulatory Organization of Canada accepts responsibility for the adequacy or accuracy of this release.
Forward-Looking Statement Caution
This news release contains certain "forward-looking statements", as defined in the United States Private Securities Litigation Reform Act of 1995, and within the meaning of Canadian securities legislation. The Company cautions that forward-looking statements are based on the beliefs, estimates and opinions of the Company's management on the date the statements are made and they involve a number of risks and uncertainties. Consequently, there can be no assurances that such statements will prove to be accurate and actual results and future events could differ materially from those anticipated in such statements. The Company undertakes no obligation to update these forward-looking statements if management's beliefs, estimates or opinions, or other factors, should change, except as required by law. There are numerous risks and uncertainties that could cause actual results and Tower's plans and objectives to differ materially from those expressed in the forward-looking information. The reader is urged to refer to the Company's public disclosure which is available through the Canadian Securities Administrators' System for Electronic Document Analysis and Retrieval (SEDAR) at www.sedar.com for a more complete discussion of such risk factors and their potential effects.