VANCOUVER B.C. -- Tower Resources Ltd. ("Tower" or the "Company") is pleased to announce results from a preliminary exploration program at its 100% controlled More Creek property in the world-class Golden Triangle district, northwest British Columbia. Tower's stream sediment samples, from streams draining the most prospective portion of the property, have recovered numerous gold and cinnabar grains, suggesting a mineralized epithermal system outcrops within the More Creek Property.

The 6,430 hectare More Creek property is located near the centre of the Golden Triangle and is considered prospective for epithermal gold and silver mineralization. The property is approximately 55 kilometres north of Pretium Resources' Brucejack development project, which contains a Measured and Indicated mineral resource of 9.1 million ounces of gold at an average grade of 17.2 grams per tonne gold (see Pretium July 21, 2016 Press Release).

Three stream sediment samples were collected (see attached map): MC-SS-001 from a tributary creek below the Sinter Zone, the main historic showing on the property (see Tower's August 16, 2016 Press Release); MC-SS-002, from a creek draining a part of the catchment basin that includes the Logan Ridge Zone, another historic showing; and MC-SS-003, downstream of both MC-SS-001 and -002, near the main creek mouth where historic operators sampled highly anomalous gold in stream sediments. The entire catchment area sampled by MC-SS-003 comprises less than 14 square kilometres and is less than 8 kilometres long, indicating a very constrained area for the gold source(s). Samples were processed by Overburden Drilling Management (ODM), of Ottawa, Ontario.

A total of 41 grains of gold were picked from MC-SS-002, and 38 from MC-SS-003. Based on the coarse and well-sorted gold grain population in sample 002, ODM believes the original gold grain population may have been many times larger, and is underrepresented in this lag deposit.

The sediment sample from a creek draining the Sinter Zone (MC-SS-001) contained no gold grains, but approximately 100 grains of cinnabar. Cinnabar (mercury sulfide) is a common mineral in epithermal systems, especially at high levels as mercury is easily transported in a vapour phase. Samples MC-SS-002 and -003 also contained approximately 20 grains of cinnabar each, suggesting a related source.

Rock samples were also collected by Tower geologists from the Sinter Zone, especially where glacial recession has exposed abundant new outcrop. Samples collected contained sub-ppm concentrations of silver and ppb-level concentrations of gold. Arsenic and mercury were highly elevated (tens to hundreds of ppm) in the same samples. These results are consistent with the interpretation of the Sinter Zone representing the highest levels of a mineralized epithermal system. Strong alteration, pyrite vein stockwork, hydrothermal brecciation, and textures indicative of fluid boiling and gas escape were observed. During the brief program, Tower geologists were able to investigate less than 10% of the four kilometre-long northwest striking alteration zone.

Tower plans additional mapping, prospecting, and stream sampling in 2017 to assess the source of the gold sampled in this preliminary survey. A gold showing may be exposed due to rapid recent glacial recession that was unavailable to previous operators.

More Creek is 120 kilometres north of Stewart, BC and benefits from close proximity to significant infrastructure such as the Northwest Transmission Line, a nearby fixed-wing aircraft runway, and Highway 37, all of which are approximately 10 kilometres to the east.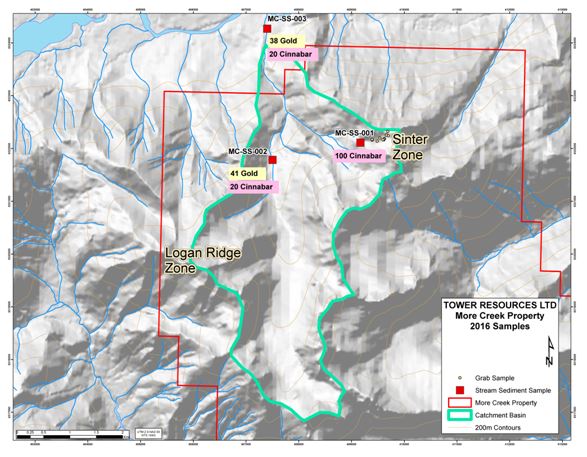 Sampling Methods

Alluvial sediment samples (20-30kg wet) were collected and prescreened to -4.7mm (4 mesh) in the field. Samples were submitted to Overburden Drilling Management of Ottawa, Ontario. All samples were panned for gold and metallic indicator minerals. A 0.25-2.00mm, >3.2 specific gravity, nonferromagnetic heavy mineral fraction was then prepared and picked for epithermal gold and porphyry copper indicator minerals.

About Tower Resources

Tower Resources Ltd. (TWR.V) is a Vancouver-based junior mineral exploration company focused on the discovery and advancement of economic mineral projects, primarily in British Columbia. The company's key exploration assets are Rabbit North, Nechako Gold and More Creek.

Some technical information contained in this release is historical in nature and has been compiled from sources believed to be accurate. This technical information has not been verified by Tower and may in some instances be unverifiable dependent on the existence of all historical grab and trench samples and drill core. Management also cautions that mineral resources on nearby properties are not necessarily indicative of the results that may be achieved on the subject property.

Overburden Drilling Management Ltd. was founded in 1974 by Mr. Stuart Averill, who currently serves as ODM's Chairman. Mr. Averill is also on the Board of Directors for Tower Resources Ltd.

The technical content of this news release has been reviewed and approved by Nils Peterson, M.Sc., P.Geo., Chief Geologist for the company and qualified person as defined by National Instrument 43-101

For further information contact:

Mark Vanry -- Director, CEO & President
(604) 558-2565
This email address is being protected from spambots. You need JavaScript enabled to view it.
www.towerresources.ca

Neither the TSX Venture Exchange nor the Investment Industry Regulatory Organization of Canada accepts responsibility for the adequacy or accuracy of this release.
Forward-Looking Statement Caution
This news release contains certain "forward-looking statements", as defined in the United States Private Securities Litigation Reform Act of 1995, and within the meaning of Canadian securities legislation. The Company cautions that forward-looking statements are based on the beliefs, estimates and opinions of the Company's management on the date the statements are made and they involve a number of risks and uncertainties. Consequently, there can be no assurances that such statements will prove to be accurate and actual results and future events could differ materially from those anticipated in such statements. The Company undertakes no obligation to update these forward-looking statements if management's beliefs, estimates or opinions, or other factors, should change, except as required by law. There are numerous risks and uncertainties that could cause actual results and Tower's plans and objectives to differ materially from those expressed in the forward-looking information. The reader is urged to refer to the Company's public disclosure which is available through the Canadian Securities Administrators' System for Electronic Document Analysis and Retrieval (SEDAR) at www.sedar.com for a more complete discussion of such risk factors and their potential effects.