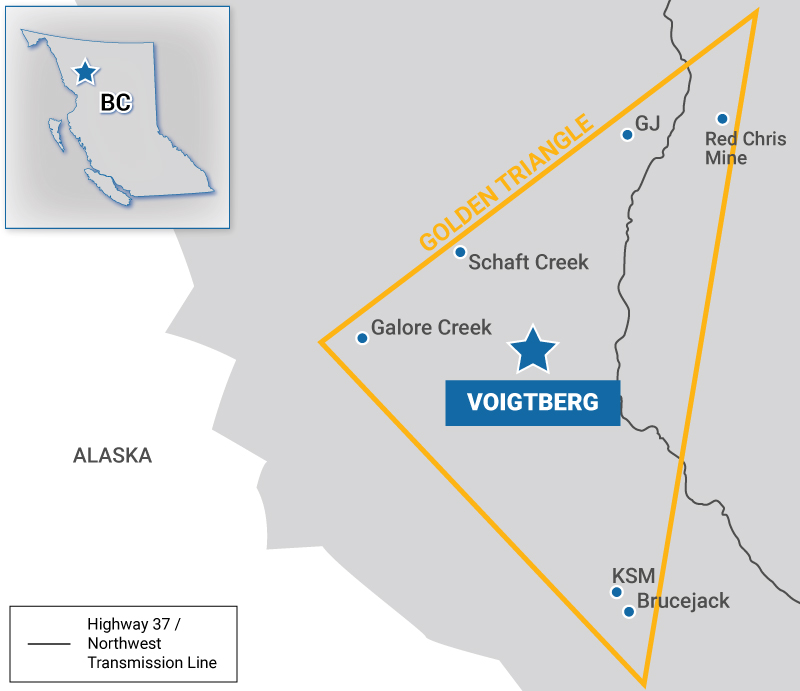 Voigtberg Property Overview
On December 18, 2017, Tower Resources Ltd. along with Kaminak Gold Corporation a wholly-owned subsidiary of Goldcorp Inc. entered into an option agreement to acquire a 100% interest in the Voigtberg gold-copper property while also creating an investor rights agreement with Goldcorp.
Located near the heart of the Golden Triangle region of BC, 20 kilometers west of Highway 37 it is proximal to infrastructure, the newly completed Northern Transmission Line, and is just 5 kilometers north of the Galore Creek Access Road.
The Property is 85km southwest of Imperial Metal's Red Chris Mine, 35km southeast of Teck Resources Shaft Creek deposit and 50km east of Teck/Nova gold's Galore Creek deposit .It comprises of 6 mineral tenures totaling 3144 hectares of land prospective for gold-copper mineralization associated with monzonitic dykes of inferred late Triassic to early Jurassic age.
Previous Voigtberg explorations
1984 – 1994 (Lac Minerals, Skeena Resources, Kingston Resources)
Highly anomalous gold values returned in silt samples taken from creeks draining the property. Discovery of extensive phyllic and advanced argillic alteration zone exposed at surface
1994 – 1996 (Hemlo Gold Mines/ Hayden Resources)
3 diamond drill holes totaling 455 metres from a single site within the Gold Zone. These holes were drilled entirely within low – grade pyritic gold mineralization, averaging 0.263 g/t Au over their entire lengths. Hole VGT96-3 bottomed in mineralization, with the last sample grading 2.01 g/tonne Au over 2.45 metres.
Sampling of high grade gold and widespread gold-copper mineralization in rocks and soils
2006 – 2007 (BC Gold Corp)
4 diamond drill holes for 717m in 2006, and 4 diamond drill holes for 588m in 2007.
Mineralization was intersected in all holes drilled at the Gold and North Zones, with notable intervals of gold-copper mineralization reported from the gold zone drill holes.